Our team is multi-disciplinary and combines fresh perspectives and experience of the Industrial Manufacturers, Processing Companies, SMEs, Colonisers and Builders, Exporting and Trading Concerns,Service Companies,Professional Service providers, Government Autonomous Bodies, Central and State level PSUs, Charities, Non-Governmental Organisations (NGOs), Development Agencies, Educational Institutions, Education Providers and Facilitators, Banks and others to meet your ever changing needs.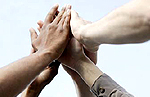 Collectively, our Partners and staff possess a breadth of expertise that covers all aspects of accounting and business. We carefully and thoughtfully apply this knowledge to each client's unique circumstances in order to help it become more profitable and achieve the success it desires.
All members of the R. Kant Gupta & Co. team diligently maintain and expand their expertise through continuing education and active membership in appropriate professional organizations. In addition, we are frequently called upon by government and professional organizations for consultation and guidance.
Each of our partners has the credentials and experience that instill confidence in clients.